Frequently Asked Questions
About the Hulda Clark Zapper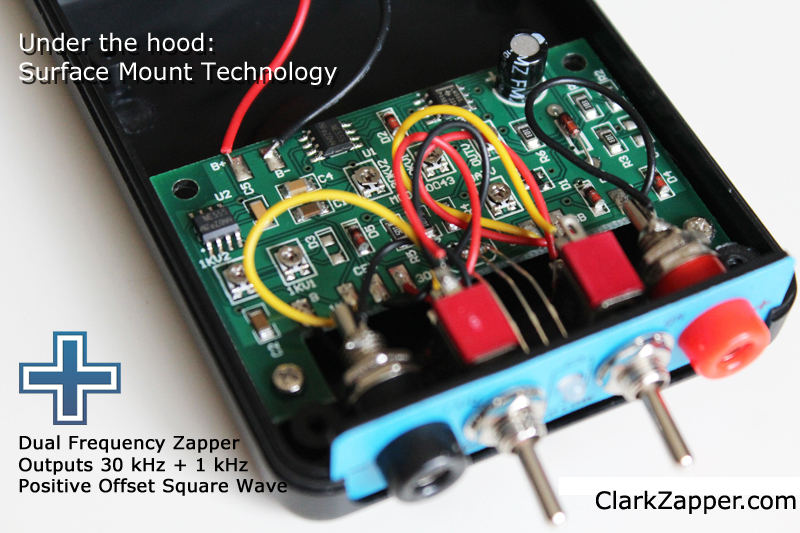 Retail Price: $199.99 Add to Cart
What is a Zapper? Research Scientist and Author, Dr. Hulda Clark invented a simple 30 kHz frequency generator combined with copper handles and called it a Zapper. Zapping is considered experimental, which means that the science has not been evaluated or licensed by the FDA. Read the latest books by Hulda Clark to learn about the many ways Dr. Clark experiments with a Zapper.
How do I zap? Here is a video that shows you how to zap.
I don't feel anything when I use my Zapper, should I? Not really. Some people can feel a slight tingle, but most people don't feel a thing when they zap. There is no discomfort. Just sit, relax, and zap. It is also smart to test a zapper (especially a homemade zapper) on a voltage meter if you question its output. All of our units are hand-tested just before they are shipped.
NOTE: The voltage output should be about 8 volts with a fresh 9 volt battery. However, a voltage meter will only read about 4 volts (zapper's square wave has a 50% duty cycle so meter displays an average voltage between 0 & 8 = 4). Whatever your voltage meter reads, multiply it by two. That is your zapper's voltage output.
Do you carry wrist cuffs? No, we don't believe they work well. Dr Hulda Clark, the inventor of the Zapper circuit, published that she did not use wrist cuffs when zapping. Because our Zapper is made exactly to Dr. Clark's published designs, we adhere to the use of highly conductive copper pipes as the handholds. Here is a quote from Dr. Clark to support this:
"Although wrist straps are convenient, not enough research has been done to accurately compare effectiveness with the tubular design of electrodes... A person should use the copper tube electrodes, of correct dimension, correctly placed, and not risk poor conductance."
- an excerpt from Dr. Hulda Clark's 2003 update on zapping
What zapper should I get? Over the years we have sold several different brands of Hulda Clark Zappers. When we were deciding on which brand to offer our customers, we chose the device closest to Dr. Clark's published design. Too many other Zapper designs seem over-complicated or had too many modifications from her original published schematic.
For instance there are zappers out there that are digital, and Dr. Clark's design is analog.
Some zappers come with wrist straps, though Dr. Clark wrote that she did not recommend zapping with the less conductive wrist cuffs. (Dr. Clark's design uses copper handles which are very conductive).
There are several zappers out there that output a completely different frequency than what is published by Dr. Clark. There are only two Zapper frequencies that Dr. Clark has published to date. Dr. Clark's original circuit, the 30 kHz Zapper is the most famous. (30kHz can also be written as 30,000 Hz). Dr. Clark's latest published circuit called, the Food Zappicator has a 1000 Hz output.
Check out the Hulda Clark Zapper Comparison Chart that lists several zappers available on the net today, along with quotes direct from Dr. Hulda Clark's books defining what a zapper should and shouldn't be.
If you would like to follow the published experiments described in Dr. Clark's books, the Frequency Generation brand Zapper is a great choice. It has been tested rigorously to guarantee positive offset square wave frequency output, with no negative spikes, as specified in Dr. Clark's books.
Why a 9 volt battery? Can't I plug it into a wall adapter? There are zappers out there that have 9 or 12 volt AC adapters, but Dr. Clark wrote for safety reasons to only use a 9-volt DC battery, and to NOT use an AC adapter. A more economical and environmentally friendly option is to purchase rechargable Ni-MH 9-volt batteries and a Lenmar PRO9V2 9V Ni-MH Battery Charger from Radio Shack.
What about Parasites, Viruses, & Bacteria? There are a lot of politics and laws about what a merchant can state when selling experimental devices such as a Hulda Clark Zapper. Let us try to explain.
Because Dr. Clark does not manufacture Zappers, Herbs, or Supplements, she can state whatever she believes in the books she publishes. It is considered free speech. Although her research and experiments have benefitted hundreds of people over the years, the Hulda Clark Zapper has not been evaluated by the US FDA. Without a 10-year double-blind study approved by the FDA, any claims that the Hulda Clark Zapper kills parasites, viruses and bacteria are considered unsubstantiated.
Here in the US, merchants who make unsubstantiated claims are commiting a big offense. Many zapper manufacturers have been put through costly legal action because of advertising such claims. You will notice that on our web site we never mention parasites, viruses, and bacteria at all.
When purchasing a Hulda Clark Zapper, we recommend avoiding any merchant or company that makes these or other unsubstantiated claims. It's just a matter of time for the FDA and FTC to catch up with them. If you want to purchase from a business that will be there for years to come, be sure to shop from a site that is not breaking these simple laws.
What about other frequency devices? There is a long history of Frequency Oscillations being used in research that is similar to Dr. Hulda Clark's published experiments. Here are a few links:
Nikola Tesla in the early 1900's developed a science called Diathermy. Here is a quote by Tesla: "One of the earliest observations I made with these new machines was that electrical oscillations of an extremely high rate act in an extraordinary manner upon the human organism. These oscillations produced other specific physiological effects, which, upon my announcement, were eagerly taken up by skilled physicians and further investigated. This new field has proved itself fruitful beyond expectation, and in the few years which have passed since, it has been developed to such an extent that it now forms a legitimate and important department of medical science."
Georges Lakhovsky invented the Multi Wave Oscillator and claimed to revitalize the health of cells. His book The Secret of Life documents his 98% success rate working with cancer patients in the 1930's-1940's.
Royal Raymond Rife has got to be the most famous scientist to develop frequency devices intended to destroy pathogens in living beings. When given the chance to demonstrate his devices, Rife was recorded as curing all his cancer patients in his study using his experimental frequency instruments. There is a great book by Barry Lynes titled: The Cancer Cure That Worked, 50 Years of Suppression. Order it at Amazon, and read this amazing book about Rife and his research on therapeutic frequency devices during the 1930's.
Bob Beck developed a "blood zapper" that is supposed to rid the blood of many pathogens. Based on the research at Albert Einstein College by Dr. Steven Kaali and their announced and patented cure for AIDS. (It's odd less people have heard about this exciting research going on in New York at Albert Einstein College).
Robert Becker is the leading expert in studying the electrical stimulation of regenerating limbs. Dr. Becker has studied the salamander's ability to regenerate a lost limb. Becker believes that since humans generate limbs in the womb, that it is possible to stimulate and recreate the same ability when an adult has lost a finger, arm, leg and so on. Dr. Robert Becker's book, The Body Electric records his exciting research in the area of electrical stimulation for human limb regeneration.
TENS is a frequency device that is registered as a medical device here in the US. It is often used to help block pain signals after a major injury. Once in a while you will see a football player on TV hooked up to a TENS unit after an injury to help with his rehabilitation. TENS devices are sold in the US by prescription only.
The US FDA did an interesting study: Kinetics of Microbial Inactivation for Alternative Food Processing Technologies - Oscillating Magnetic Fields. See especially the chart of pathogens destroyed, a very convincing study. It is exciting that the FDA has begun conducting this kind of research.
Several US Patents exist that are of interest:
US Patent # 4524079: Deactivation of microorganisms by an oscillating magnetic field.
US Patent # 4665898: Malignancy treatment using pulsed magnetic fields.
US Patent # 6409719: Light stint implant device for treatment of long term viral infection. Electromagnetic radiative energy including visible, and optionally, thermal, RF and/or microwave wavelengths, is topically applied to internal surfaces of the upper respiratory tract to destroy or incapacitate superficial microorganisms without the use of antibiotics.
University of Washington has done several Hulda Clark related studies of interest, a recent press release states: Magnetic fields may hold key to malaria treatment. And an incredible study on low-intensity electric current-induced effects on human lymphocytes and leukemia cells was done using a Hulda Clark Zapper. The same researchers did a study on some of the ingredients used in Dr. Clark's Herbal Parasite Cleanse. Be sure to take the time to check out the details of these amazing studies.
New Way to Kill Viruses: Shake Them to Death "The capsid of a virus is something like the shell of a turtle," said physicist Otto Sankey of Arizona State University. "If the shell can be compromised [by mechanical vibrations], the virus can be inactivated."
Disruption of Cancer Cell Replication by Alternating Electric Fields, Department of Biomedical Engineering, NovoCure Ltd., Haifa, Israel; B. Rappaport Faculty of Medicine, Technion—Israel Institute of Technology, Haifa, Israel; Department of Molecular Cell Biology, Weizmann Institute of Science, Rehovot, Israel; and Elisha Medical Centre, Haifa, Israel.
Discovery of Tumor-Specific Frequencies "Because in vitro studies suggest that low levels of electromagnetic fields may modify cancer cell growth, we hypothesized that systemic delivery of a combination of tumor-specific frequencies may have a therapeutic effect." Cabinet Medical, Avenue de la Gare 6, Lausanne, Switzerland.
Frequency Specific Microcurrent "The treatment is called FSM, or frequency specific micro-current. During the procedure, tiny electrodes are attached to the injured area. These electrodes deliver a tiny, imperceptible electrical current (just millionths of an amp). This current is at the same frequency as what the body's cells normally produce. So it causes those cells to resonate. This increases cellular activity, which in turn increases the energy produced by the cells. In fact, one study found that cells increase their production of ATP (the energy molecule) by a whopping 500%! That's five times the energy! But that's not all. Research shows that FSM increases the rate of protein synthesis by 70%. In other words, it helps re-build damaged tissue. Let me say that again. FSM helps re-build the parts of your body, whether it's tendons, ligaments, or organs." Robert J. Rowen, MD
Olympians Use 'Secret Device' for Improved Flexibility. Research by Dr. Bill Sands, leader of the Recovery Center for the United States Olympic Committee had shown that resting a limb on a vibrating surface during stretching greatly increased the flexibility of that limb. The machine itself is surprisingly simple. It's shaped like a small pommel horse and shakes continuously at 30 hertz. After trials with young male gymnasts showed 400 percent improvements acutely and significant increases at four weeks, Sands felt the device was ready for Olympic prime time. Three years later, with a series of peer-reviewed publications, Sands says the effect of the machine is indisputable. Sands says it's one of the best devices they have. "We don't have a lot of silver bullets, but this is one of them." The runaway success of the U.S. flexibility device came from scouring old medical journals. Sands' team found a reference in a 1974 journal, written by an Israeli researcher, about a device some Russians had used to improve flexibility. Sands had a model built and with some experimentation, came up with a copy. The device worked so well — with permanent results — that Sands and others have wondered how many other simple fixes might be out there, but few in the USA are doing the research.
Can I build my own Zapper? Yes, it's rather easy to build your own zapper. If you have a few basic tools and consider yourself to be a bit handy, building a zapper will be great fun. Get enough electronic parts to make one for all of your family members. Handmade zappers make great gifts. www.ClarkZapper.net has FREE video instructions to build a Hulda Clark Zapper and Accessories.